Hexagons Proeftuin Meerhoven
Posted on ma 25 juni 2018 in designs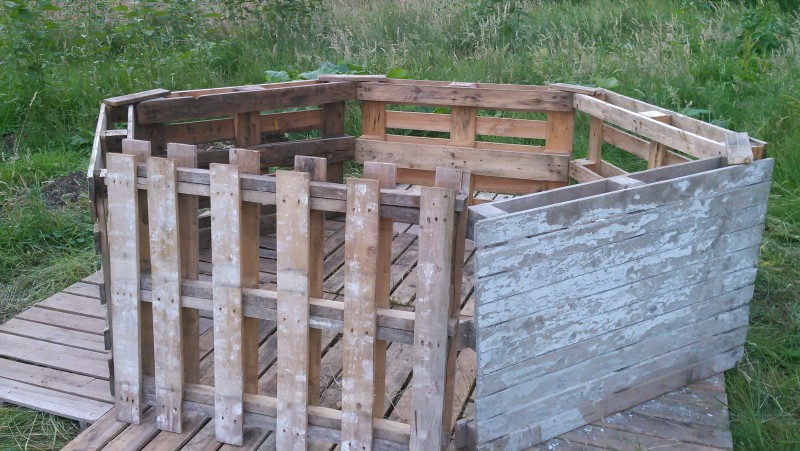 Note: this design has been abandoned.
Background
Proeftuin Meerhoven is cooperative maintaining a community garden in Eindhoven. I am a member of the cooperative. The municipality of Eindhoven has given us about 6000 m² of public land to garden on for three years. The project started on 2017-01-24.
We use a regular shipping container to store the tools and equipment. Van Happen Containers gave us use of the container in exchange for free advertising: a banner on the side of the container. The container may need to be returned in spring 2019.
Before that time, we need another place to store the tools and have meetings or breaks. This page documents the process to create this new space.
Design strategy
I used SADIMet as my design strategy.
Survey
Analysis
Design
Implement
Manage / Monitor / Maintain
evaluate
tweak
Survey
Client interview
Leo Bakx provided me with a list of functions he would like to see at Proeftuin Meerhoven. We also noted the limitations at the site due to rules and regulations from the council.
Why

compost toilet
greenhouse
meeting space
storage
water harvesting

Who

construction by
used by

members
volunteers
visitors

Where

proeftuin Meerhoven
middle of 3 circles

What

organic shape
without foundation
modular
(easily) movable
self built

local materials
salvaged materials
store-bought materials (limited budget)
Measurements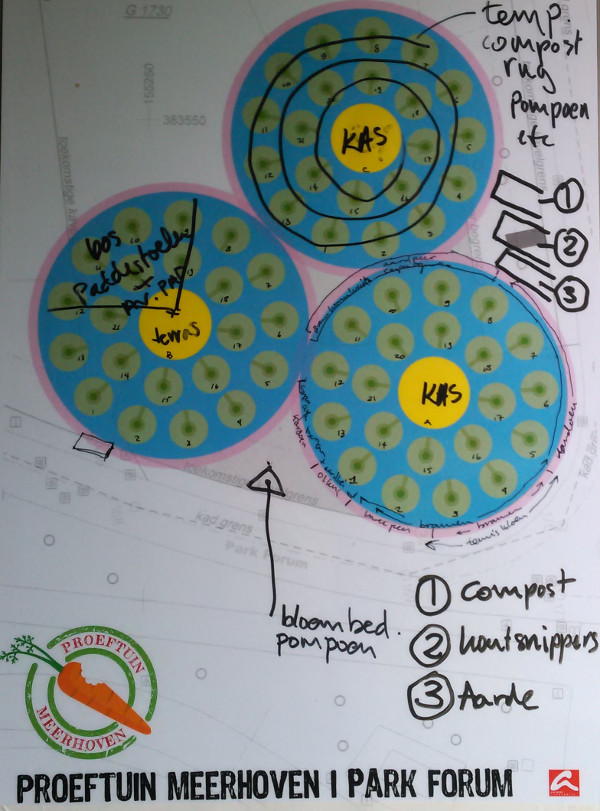 circle SE has a diameter of 4 meters.
circle N has a diameter of 7 meters.
Inside dimensions of the container (from Wikipedia)
length: 5.867 m
width: 2.352 m
height: 2.385 m
Current storage space is 13 m² in surface area and 26 m³ in volume. I guestimate that of that about 1/3 is actually used.
9 ways of observing
I wonder...

if I can mimic existing patterns
what materials are available
how much space we need

Observe energy

heat from compost
propane stove
sun from south
water harvesting
wood blocks
man power from volunteers

Observe flow

people - S and E
rain water - above
wild life - W and N
wind - SW

Observe communities

proeftuin Meerhoven
Meerhoven
Eindhoven

Observe patterns

3 circles (like clover)
dome
keyhole
tunnel

rounded
pointed arch
triangle (tent)
cube

vertical tube

single
multiple, honeycomb style

Observe edge

at the edge of the inner circle

Observe limits

contract with council
max height
no foundation
litte budget
size middle circles

Observe from stillness
Observe past & future

limited lifespan
reusable
contract with municipality is for 3 years use
Analysis
PMI on shapes
| Shapes | | | | | |
| --- | --- | --- | --- | --- | --- |
| Modular / versatile | 1 | 1 | 1 | 2 | 1 |
| Oranic shape | 3 | 2 | 2 | 3 | 1 |
| Simple construction | 0 | 3 | 2 | 2 | 3 |
| Fits available area | 3 | 1 | 2 | 3 | 1 |
| Wind resistant | 3 | 2 | 1 | 2 | 1 |
| Total | 10 | 9 | 9 | 12 | 7 |
Functions and elements
Functions from Client Interview decomposed into elements
compost toilet

closable, lockable space
receptacles - buckets
seat
toilet paper
cover material

greenhouse
meeting space

room for sitting
room for standing

storage for tools and seeds

bins
shelves
drawers
hooks on wall
hooks on ceiling
dry, ventilated space

water harvesting

receptacle - barrel
tubing
gutter
close to where water is collected
close to where water is needed
at lowest point of roof
as high as possible inside or outside
inside, water can act as thermal mass
automatic watering with drip irrigation

compost bin

for content of buckets
preferably close to toilet
can we use heat from compost bin for greenhouse
Planning for real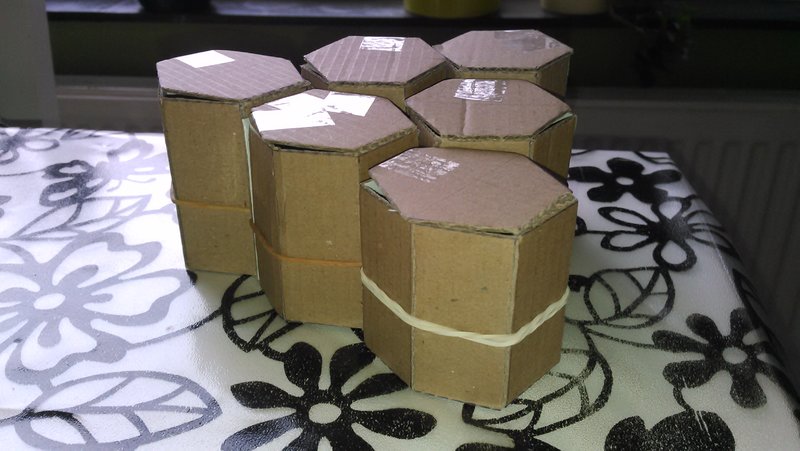 Design
Dimensions of one hexagon:
side length is the width of a pallet: r = 1m 20
surface area is 2*sqrt(3)*r²: A = 5m² (approx.)
3 hexagons equal or exceed storage capacity of one shipping container
Materials needed for first hexagon:
8 pallets for floor
6 pallets for 80cm wall (small storage bin)
OR 12 pallets for 1m 60 wall (medium storage bin)
OR 18 pallets for 2m 40 wall (walk-in)
Materials needed for the second hexagon are slightly less. We need to construct only five vertical walls extra. One wall is shared between two hexagons.
If the hexagons have no wall in between we create a bigger internal space. One of the walls of the first hexagon can be moved. We then only need to construct four walls extra.
The requirements for the floor pallets go down by one because the area is shared between hexagons.
Number of pallets needed:
fase 1: 1 hexagon

8 on bottom
6 for walls of 80cm, 12 for 1m60, 18 for 2m40
total for 2m40, 1 hexagon: 24 pallets
ground surface: 2*80+120 x (3+1)*80 = 2m80 x 3m20

fase 2: 2 additional hexagons

2*8 - 2 = 14 on bottom
7 for walls of 80cm, 14 for 1m60, 21 for 2m40
total for 2m40, 2 additional hexagons: 35 pallets
total for 2m40, 3 hexagons: 24 + 35 = 59 pallets (= 20/hexagon)
ground surface: 3*80+2*120 x (6+1)*80 = 4m80 x 5m60

fase 3: 3 additional hexagons

3*8 - 4 = 20 on bottom
8 for walls of 80cm, 16 for 1m60, 24 for 2m40
total for 2m40, 3 additional hexagons: 44 pallets
total for 2m40, 6 hexagons: 59 + 44 = 99 pallets (= 17/hexagon)
ground surface: 4*80+3*120 x (8+1)*80 = 6m80 x 7m20
Implement
We started on the construction on 2018-06-17 (Sunday). There were few different types of pallets available. Some were europallets, some pallets were thinner but had smaller gaps between the upper boards. We used the thinner pallets for the floor and latched five vertical europallets to each other to create a preliminary structure.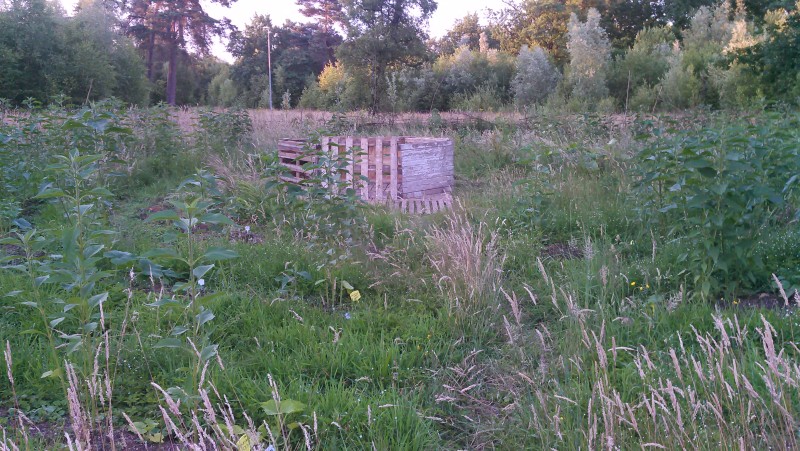 On 2018-07-27 (Friday) Inge Kouw put out a press release stating we are looking to give a workshop building with pallets. It also contained a call for pallets.
On 2018-07-29 (Sunday) a journalist of the Eindhoven Dagblad, Karin Rosendaal, came by to do an interview with a few volunteers about our plans.
On 2018-07-30 (Monday) the article appeared in the printed edition of the newspaper as well as on-line.
On 2018-08-01 (Wednesday), a city official let us know the planned structure was in violation of the contract with the municipality. The city asked us to stop collecting pallets and to remove all already collected pallets from the grounds.
Maintain
We abandoned this design. All pallets have been removed.
Evaluate
4 questions
What went well?
I liked the design. It is simple, can be constructed from standardized pallets and provides ample space for fill the needs of the project.
Inge got calls and mails from many interested people that wanted to help. How could we harness this in the future?
What would I do differently?
A crucial missing piece of information was the actual agreement with the city. I relied too much on second hand information. This is something to keep in mind for future projects.
What is my vision?
The needs for this project has not changed. We still need to come up with a solution.
What is my next step?
Reassess the need for a structure and see if we can keep the container. If that is not possible, consider a more low key approach.