Design family project in Gunsleben
Posted on vr 28 september 2018 in designs
Design summary
This work is the result of a PDC held in Gunsleben, Germany. The first week was from 2018-06-30 to 2018-07-07. The second week was from 2018-09-16 to 2018-09-23.
The design team members are Ana Baselga, Arno Peters, Eileen Wylicil and Laurent Besnard-Chantecler. Below we document the process we followed to get to our design.
The main building is used as a safe house, for food storage and as a private space. There are occasional workshops on permaculture or skill sharing as well as hosting guests for a B&B arrangement.
The big barn has an adventure space for kids and adults. The fire truck is an eye catching feature that draws people from neighboring villages. A part of the space is for a shop that sells local and regionally produced food for villagers and guests. The café at the other side of the barn is the local watering hole for catching up with gossip and relaxing after a day of work.
At regular times the courtyard is transformed into a farmer's market. This is the place to swap food, recipes, seeds, books and tools. A DJ provides music, the kids play in the adventure space while adults build connections and share stories. Vendors that want to use a stall can enter and park near what is currently the main entrance.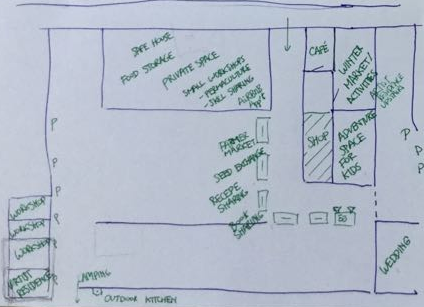 The restored main gate again projects an image of welcome and comfort. Visitors coming by foot or on bicycle can enter the market using this gate. Visitors by car can use the gate on the other side of the big barn. They then enter the market via the side, passing the DJ booth and the adventure space.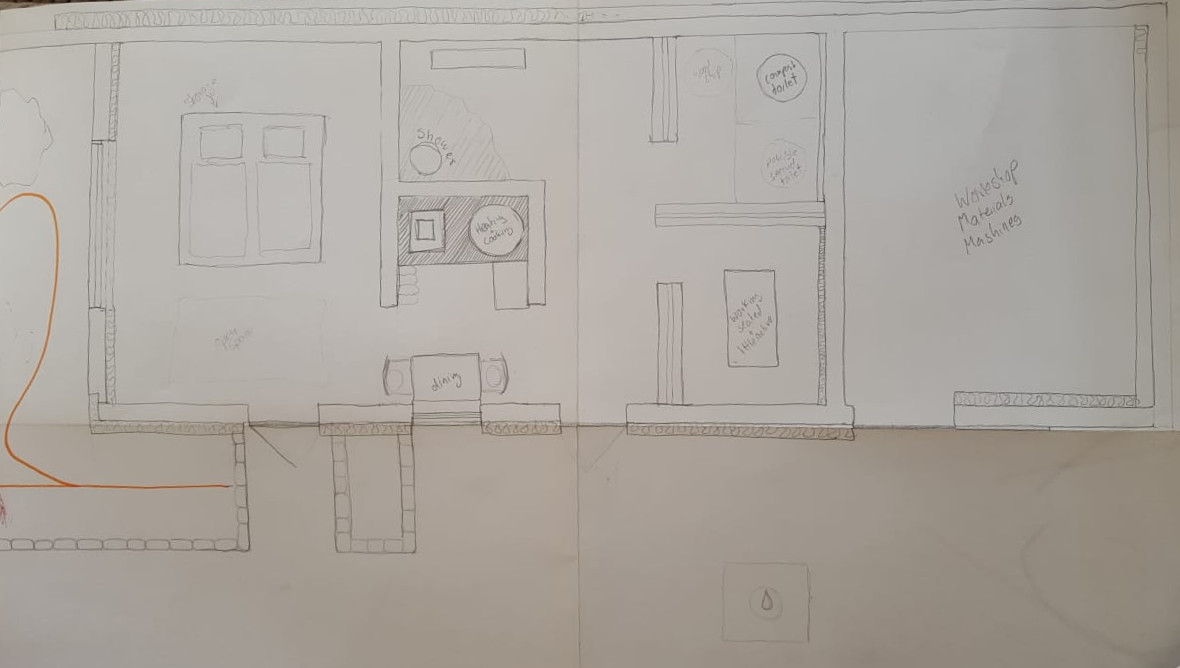 In the annex a couple of artists have taken residence. They are the organizers for most of the activities happening on the property involving guests from outside or from the local community. Their duties for upkeep of the property are minimal. They do notify the family of problems and coordinate emergency repairs. Their main focus is to draw people to the property to make it come alive and provide a way for the project to sustain itself.
The annex provides a comfortable living space for a couple to live there year round. The spaces are small enough to quickly and efficiently heat in winter. An attached greenhouse to the front and side of the building provides a volatile space for sitting and extending the food growing period.
Documenting the process
We started to go over the vision and the client interview. We then selected a design process. Since we covered only one in the PDC, we chose SADIMet. We then proceeded to the Survey part of the process. We selected a tool to try: '9 ways of observing'.
We distributed the different ways across different people. We looked at using a Kanban to keep track. The Kanban is not suited for such a limited task. We decide on a simple division of labor: every person does two and one we do together.
9 ways of observing
I wonder...
using indoor shutters
why the high ceilings
how to close the gaps in the roof
Energy
heating with wood in wood stoves in most rooms of the building
electrical outlets in most rooms
solar heating on south (street side) of the building
Flow
energy

petrol / diesel
wood
gas
coal
food
electricity

humans / dog

2 people + 1 dog for 6 months
3 people + 1 dog for 6 weeks
6 people for 1 week
hired help

tools and food

supermarket
veg. plot
Ebay kleinanzeige

water
wildlife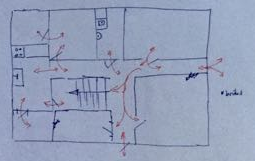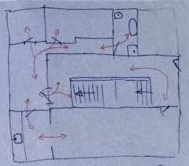 The image on the left shows in a rough sketch the flow of people and dogs on the ground floor of the main building. The image on the right shows the same flow for half of the first floor.
Communities
the family
villagers of Gunsleben
RnP PDC participants
Patterns
parents start work at dawn and don't stop until after dusk
Edge
building is directly adjacent to main street
only two entrances: one to the street (never used), one to the yard
roof is not insulated
thick walls
Limits
money
time
material resources
knowledge
laws and regulations (e.g. Denkmalschutz)
personalities and mentalities of the people involved
limited or waning interest from family members
emotional for wanting to spend more time with children and grand-children
security in winter when no one is there
heating
language barrier
From stillness
sound of pigeons
big difference in temperature between south facing rooms and north facing rooms
same with humidity
going up, the building goes from very solid to very light

cellar: stone, thick walls
ground floor: stone and wood, thick walls
first floor: sounds different, ceilings on ground floor shake when walking
attic: very light, only wood and clay roof tiles

needs a lot of people to bring to life
Past & future
previously housed a shop
headquarters for LPG (Landwirtschaftliche Produktionsgenossenschaft) in 1960s
Results from this tool
We harvested the results from each member. The biggest problem seems to be manpower.
Our next step is to brainstorm ideas for vision / activities.
Dreaming circle for activities
We thought of activities to happen at the site. We came up with a list which we then organized in a mind map around four categories.
The activities:
safe house
private space
food storage
farmer's market
recepe sharing
shop
café
village history museum
story telling space
seed exchange
harvest festival
permaculture workshops
survival camps
skill sharing
book swap
camping
AirBnB
WOOFF
wedding venue
retreats
artist residence
The categories:
family
food
community
outside influence / education
We learned the best activities somehow involve the village and the wider area.
We split up in two groups. One group investigated the activities more and one group made measurements to create a map of the main building.
Zones and sectors
We organized the activities by comfort zone for the family. The result is the figure below.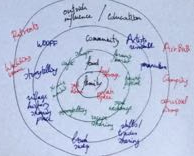 This was enlightning, but provided no real indication of where to focus our investigation next.
SWOC
We then did a SWOC to determine which area to focus on. We considered the buildings around the main courtyard. The numbers in parentheses below refer to the building numbers on the overview map at the top of this page. The main insight came from the Opportunities part of the tool
Opportunities
ground floor (#1): WOOFF, AirBnB
first floor (#1): private spaces
attic (#1): private spaces
cellar (#1): (food) storage
big barn (#2): wedding venue, survival camp, adventure space, artist residence (upstairs)
cow barn (#3): wedding venue
annex (#6): AirBnB, artist residence
Results from this tool
We were inspired to go look at the actual situation and figure out what could go where. This resulted in an overall design that fits all opportunities at once.
The placement of activities is shown in the Design summary at the top of the page.
Dreaming circle on changes
We then asked ourselves: What needs to change to get this project moving?
person or couple living here year round
trusted by the family
organizer for activities to draw people
speaks German
speaks Dutch
notifies family of problems
only responsible for coordinating emergency repairs
tend garden / food forest
We applied the Ethics of Permaculture to a person or couple living in the annex.
Earth care
tending the garden
uses much less resources than living in the main building during winter
People care
community builder
revitalize the local community
Fair share
organizing seed exchanges
showing a different way of living
PMI on options to persue further
Then we tried to do a PMI to find out which options to persue further. We came up with:
what would the family like?
vision of our group
activities of live-in resident
We had much confusion about this until we realized the options were overlapping and we each had a different perspective on them. There was the aspect of 'which place to design?', the aspect 'what can help our learning process best?' and 'should we design our vision / their vision or something inbetween?'
To break the impass we split again into two groups. One would measure the annex, the other would look at the activities for its residents.
Building design process
We thought of the following activities for the residents of the annex.
Activities for the couple (day to day living)
sleeping
eating
sitting
washing self
washing clothes
earning money
time off / relaxation
cooking
Activities for the family
heating the main building in winter prior to family arriving
keeping an eye out
emergency repair coordination
Activities for community
connect with neighbors
organize activities that bring visitors to the property
attend local events
Functions
| function | space est. | total |
| --- | --- | --- |
| sleeping | 2 x 2m² | 4 |
| sitting | 2 x 1.5m² | 3 |
| cooking | 1 x 1.5m² | 1.5 |
| reading | 2 x 1m² | 2 |
| dressing | 2 x 0.5m² | 1 |
| gymnastics | 2 x 2m² | 4 |
| wash clothes | 1 x 1m² | 1 |
| wash self | 1 x 1m² | 1 |
| wash dishes | 1 x 0.5m² | 0.5 |
| working seated | 2 x 0.5m² | 1 |
| entertaining | 4 x 0.5m² | 2 |
| sauna | 1 x 2m² | 2 |
| storage food | 1 x 1m² | 1 |
| toilet | 1 x 1m² | 1 |
| storage stuff | 1 x 1m² | 1 |
| total | | 26 |
At this point we got stuck. We turned to the attitudinal principles to generate some more ideas and to get us unstuck.
Attitudinal principles
We divided the group into three and assigned two principles to each.
Multiple elements x multiple functions
mobile thermal mass
heat with sun / wood / people / electricity
water from mains / water catchment / well
climbing vines to insulate roof / make wine
greenhouse to grow food / heat space / provide volatile space
combine heating with air flow suction from cooking into thermal mass
heater also provides biochar for greenhouse
warm shower water with heater and solar water heater
Work with nature
use water catchment with gravity
use compost toilet
water garden with grey water
dig underground storage for food
automatic green / brown roof due to tree next door
thermal mass using stone walls
use air / heat flows
Minimum effort / maximum effect
solar well in roof
water catchment for washing and showering
use washing room also for camping guests
use existing ductwork
reuse brick wall as thermal mass in greenhouse
heating system at center of three rooms
Yield is theoretically unlimited
positive impact on family, property and wider community
food growing near annex
revitalize village
The problem is the solution
room to north is cold → use for food storage and sleeping
rooms are small → easy to heat
divisions from concrete → natural separators for toilet and showers
roof is thin → easy to repair and add solar tunnel
some walls are very thick → use for thermal mass
ceiling mostly collapsed in workshop → workshop for artists benefits from higher ceilings
Everything gardens
plants grow over roof: insulates roof and provides habitat for insects and birds
greenhouse in front also helps to heat building
sun heats back wall on garden: placing the greenhouse over the whole area makes this a thermal mass
ruin next door can provide nutrients for growing food
garden to south slopes down: gravity can water it
Planning for real
We rearranged cards on a map of the building into four different designs.
The first and second design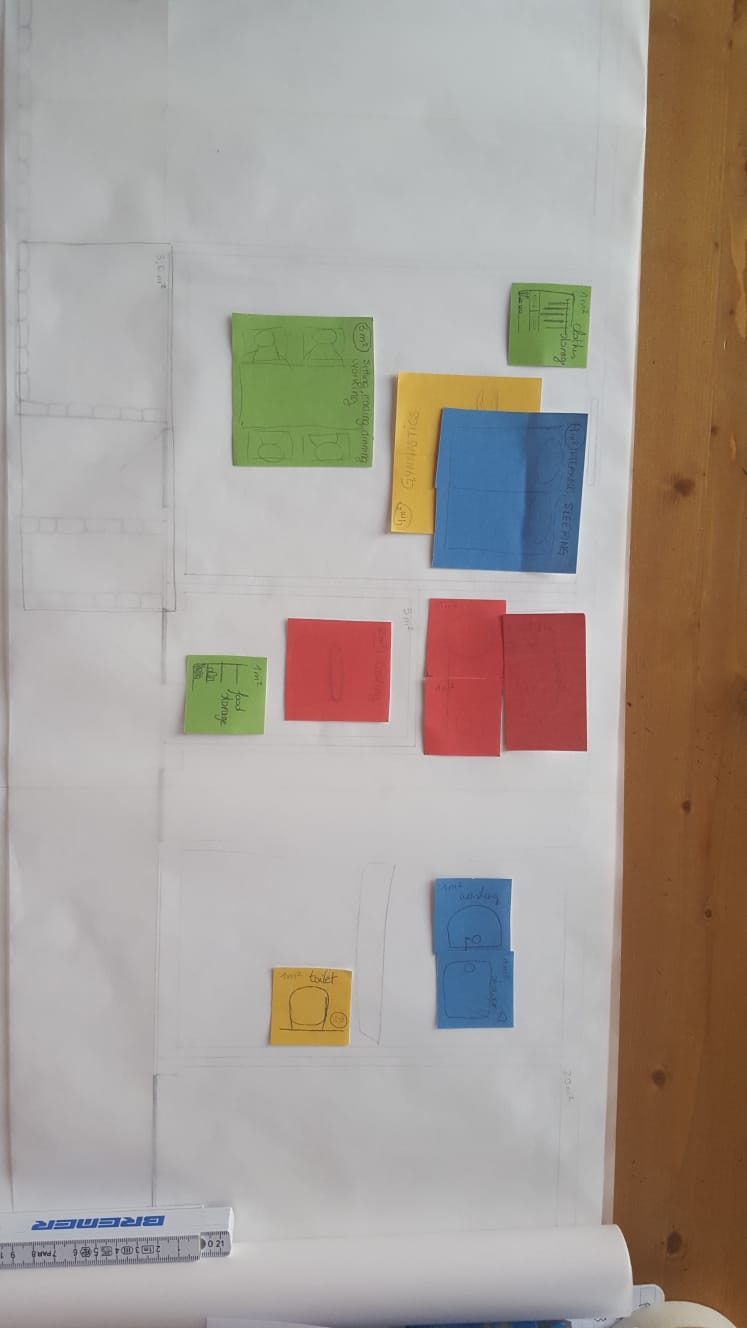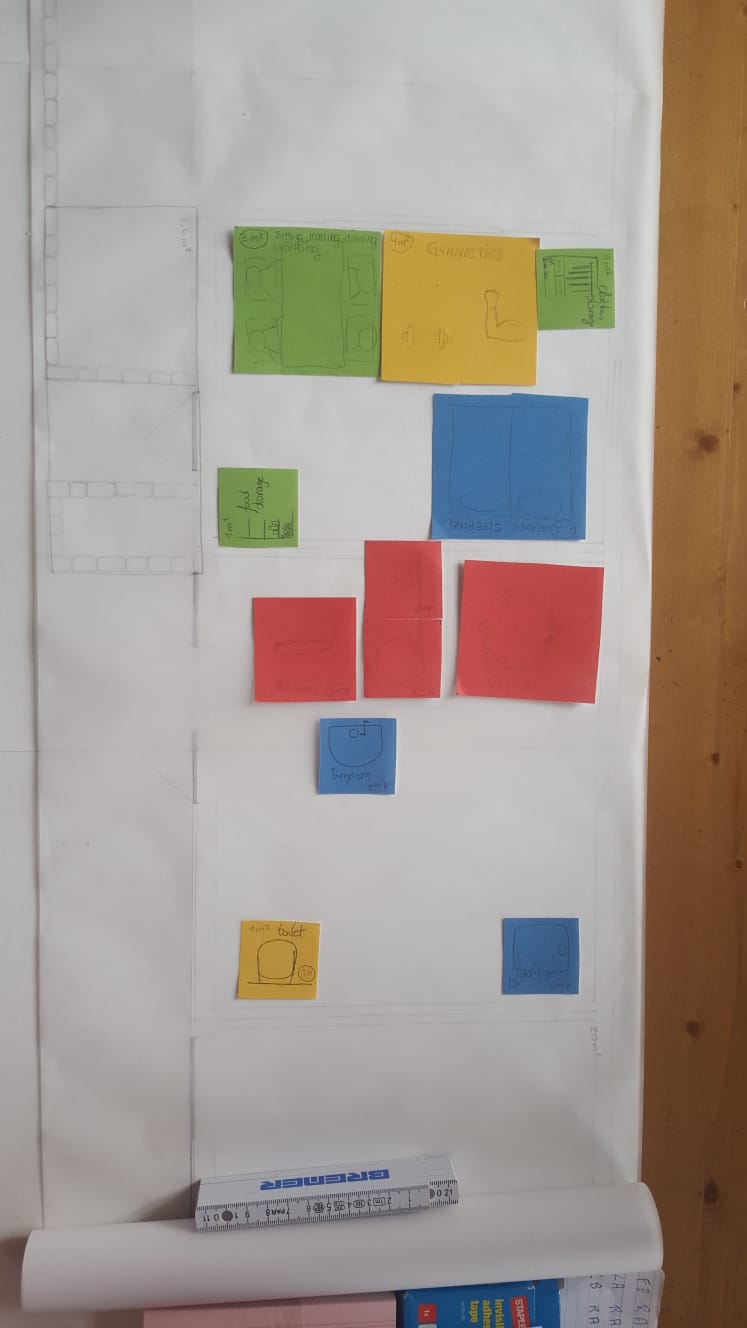 The third and fourth design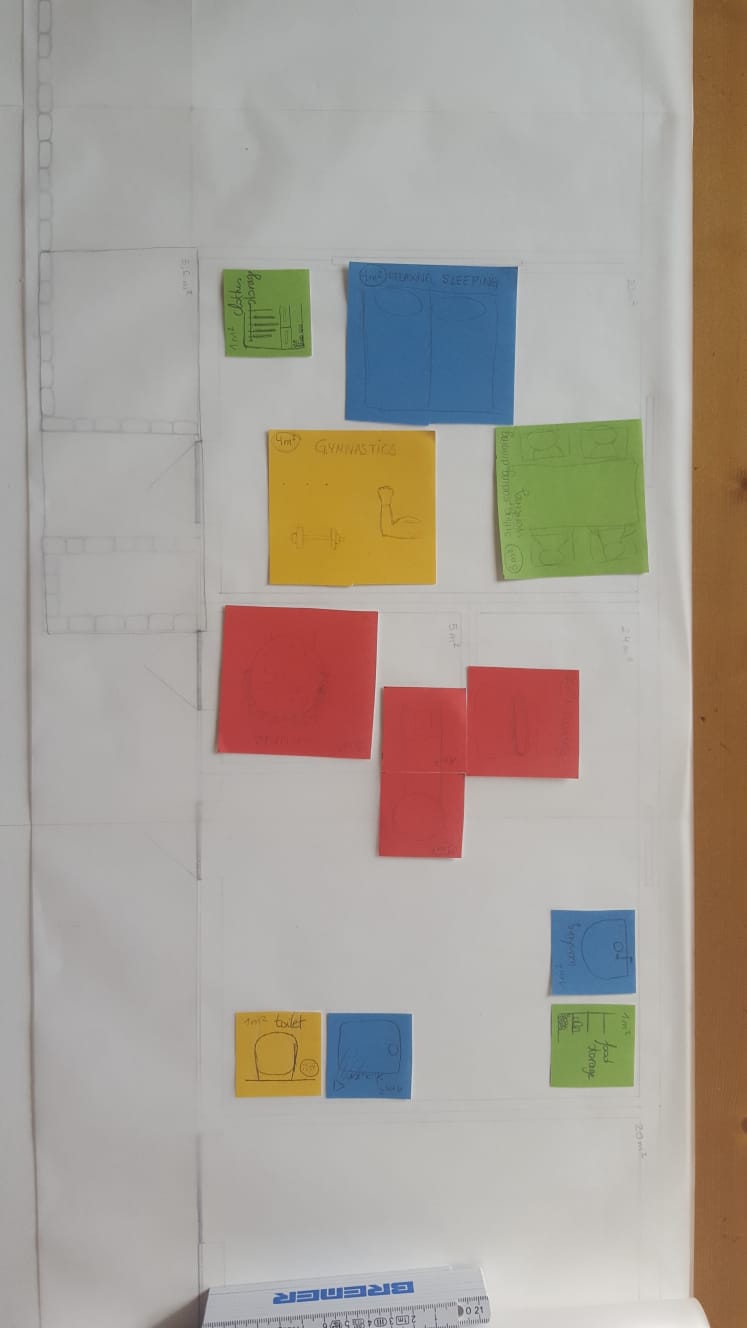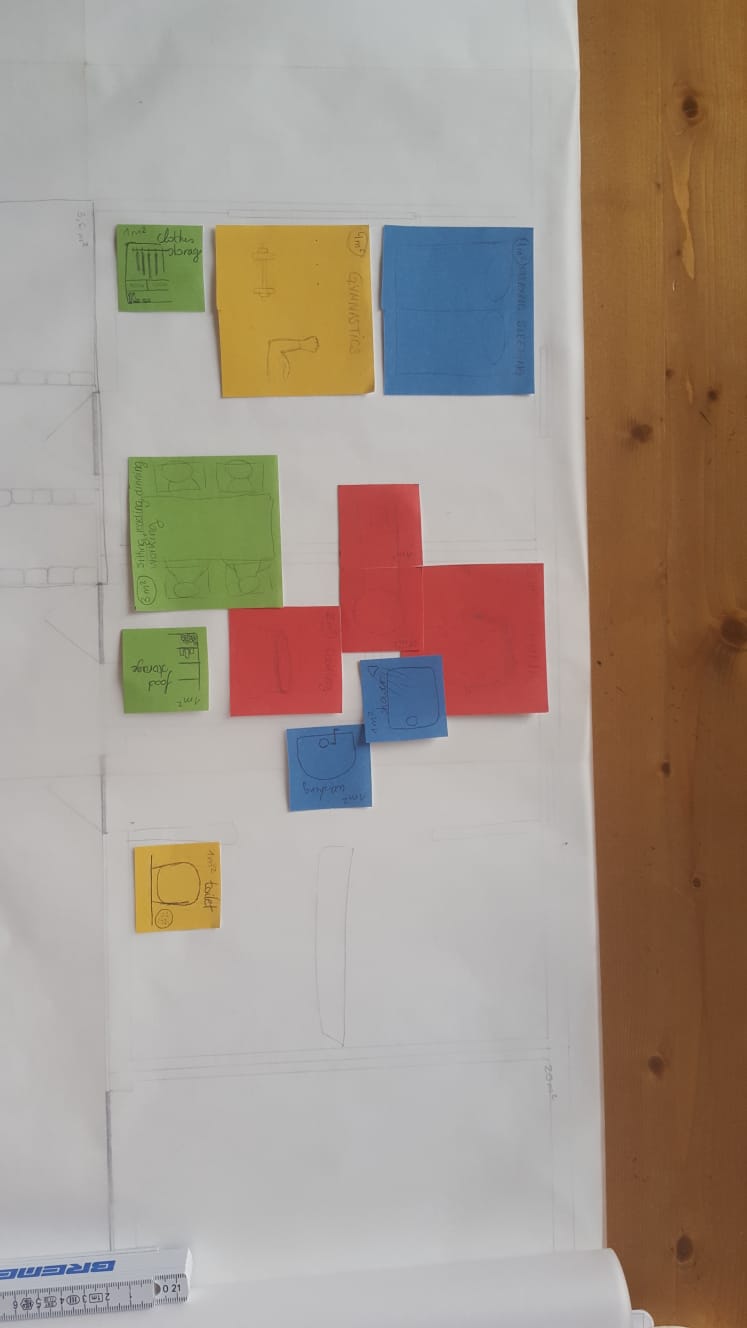 Using a PMI we then individually scored each design. The strongest designs were the second and the fourth.
Input / output analysis
We split the group one final time. One part created the final design for the annex. This is show above in the Design summary. The other part did an input / output analysis on the proposed systems in or around the annex.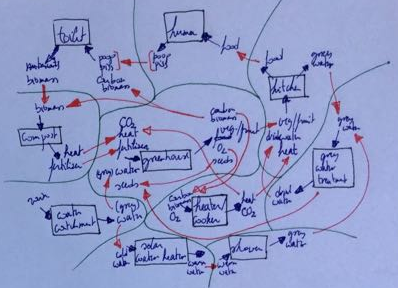 From the analysis we can see all proposed systems work very well together.
Conclusion / reflection
We did not use a formal governance model like dragon dreaming or sociocracy. This was no impediment. We presented an impressive amount of work for the time given. We demonstrated using the ethics, we used two design processes, two dreaming circles, two PMI analyses, two mappings and eight other tools.